We found out that a local charity were organising a Summer Fete in Leyton and felt Singapore Maths Academy just had to get involved!
We had a wonderful two days where we met many different people from all around London. Our aim was to get involved with the local community and at the same time make everyone aware of our services which was situated about 3 mins walk from the Leyton Cricket Ground where the Fete was taking place.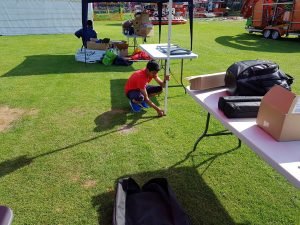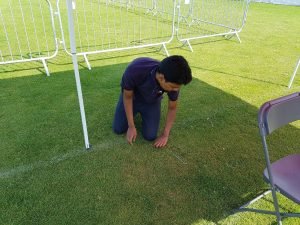 First thing was to make sure we have some shade, as the heat at 9am was pretty intense and so we knew we had a long day ahead of us! We tried to find some strong helpers to set up the gazebo but couldn't find any and settled with the two young men above! They did a good job as we completed the stall by around 10:30am and had another one and a half hours to go before the gates were open for the day.
It was an exciting time when we were up and ready to discuss our services with our guests. We had a steady flow of people coming in and talking to us about our unique maths tuition services! As you can imagine the typical questions were…
What is Singapore Maths?
Why Singapore?
Where are you based?
When do you open?
How much does it cost?
We knew what to expect as we had already taken part in other events so the questions were not that surprising, that's why we needed to make sure we have some sort of mathematical entertainment! We had some interesting questions and puzzles for enquirers to take part in and it allowed us to directly demonstrate how powerful the Singapore Maths approach can be for children. It was a risk too as we have never met these children and suddenly we were in the middle of going through maths with them when their brains were actively looking for a different kind of fun! Nevertheless, we were confident in our approach and as a result, many parents and children struggled with the challenges on our table but once they saw the solution and how simple it can be, this is what they said…
"Wow, that was so clear!"

"Amazing, very powerful."

"You can see how visual that was and I totally understood each part."
Overall, we had a great day briefly introducing the Singapore approach to the Leyton community. At the end, we got a special hug from a charitable bear and that definitely made or day!