We believe every child
can master maths
At Singapore maths Academy we feel every child can be a mathematical success story! Our aim is to use proven methods which are internationally renowned to support children's understanding of mathematics.
What is Singapore Maths?
Singapore Maths is a Mathematics pedagogy (art of teaching) which embeds
key learning principles into everyday lessons.
The key principles in brief are: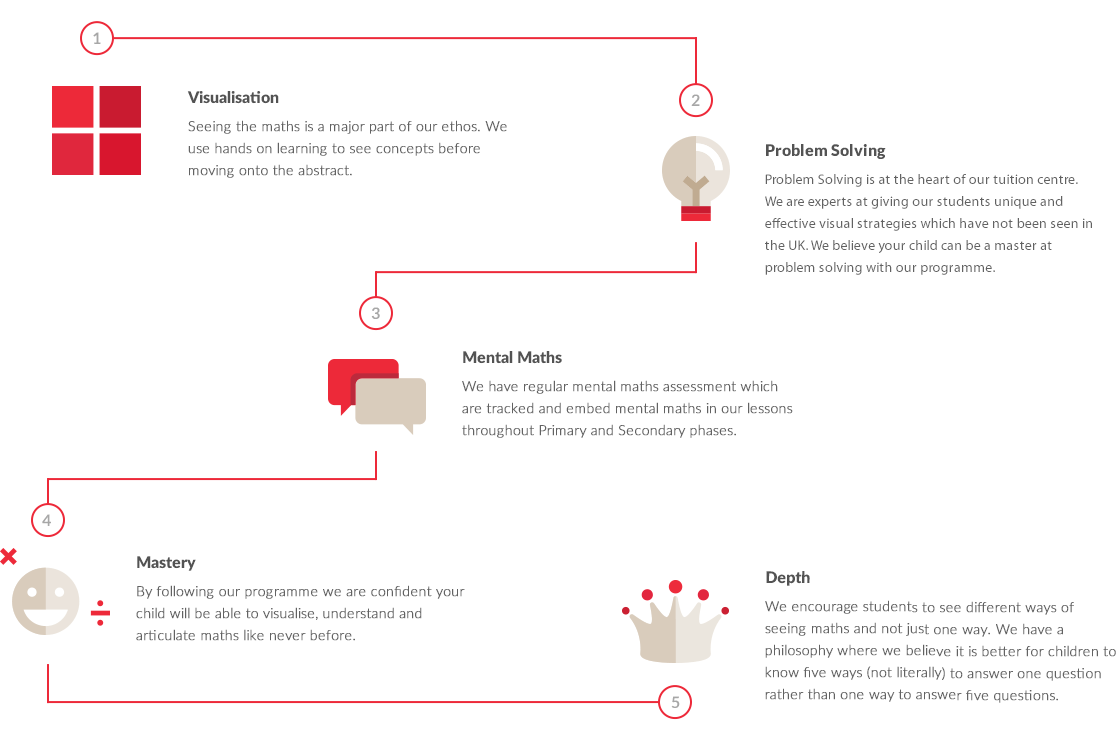 Why Us?
These are 6 reason that demonstrate why you should consider Singapore Maths Academy for your children
CLASS SIZE

8

AGE GROUP

6-16

PRICE

From £12.50
ONLINE ONE TO ONE TUITION
ONLINE

8

AGE GROUP

6-14

PRICE

From £30
CLASS SIZE

8

AGE GROUP

6-16

PRICE

From £15

Want more information?
We would love to hear from you. Let's talk!
Interested in becoming one of our teachers?
Contact us if you're a qualified teacher that is passionate about maths as we are.
What our fans say about us
"…my son enjoys Maths and the challenging problem solving based learning at the Academy appealed to me as this is exactly what he will face in the future due to changes in GCSE Maths."
"I feel more challenged compared to when I'm at school!"
"My daughter has enjoyed the classes & has shown a better understanding of problems since she has started these classes."
"I've been getting more greens (correct work) at school."
"He really enjoys the hands-on approach used to demonstrates new concepts and really looks forward to his lessons!"
"I like coming to Singapore Maths Academy because it's fun! In fractions I was really bad and now I'm a lot better."
"So far I have seen a very positive effect from using the unique Maths strategies found in Singapore Maths Academy. He really enjoys the hands-on approach used to demonstrate concepts and looks forward to his lessons!"
"Maths is fun, it's my favourite!"
Sign up to our newsletter